text.skipToContent
text.skipToNavigation
Stories of success: The story of Zeller + Gmelin
Since 1866, we develop and deliver products and process solutions that set standards in terms of performance, reliability, and economy. From our modest beginnings in the production of kerosene, we now offer corporations and medium-sized businesses an enormous variety of high-quality lubricants, printing inks and chemical products for numerous applications.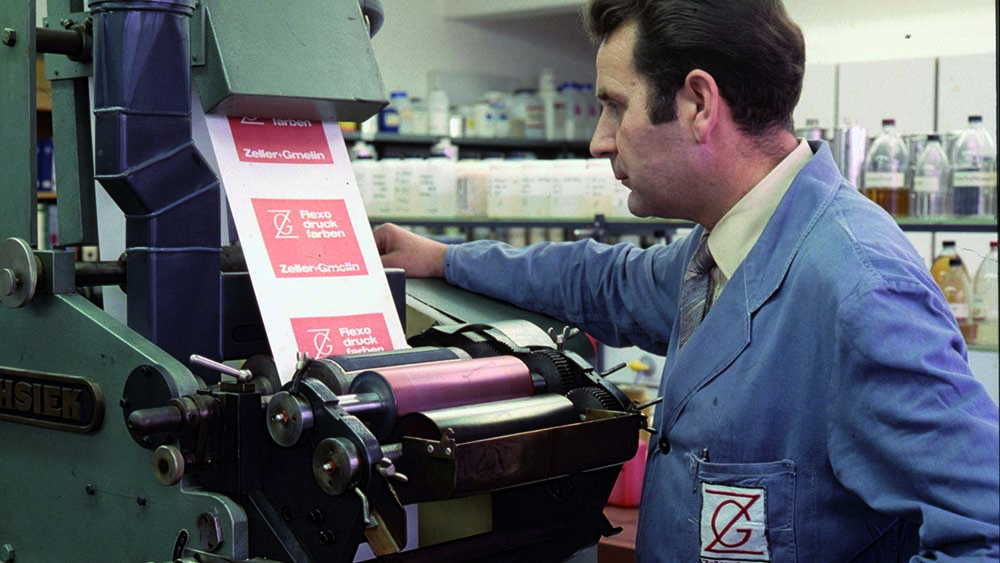 Leading lubricant competence for over 150 years
1856
In Groß-Eislingen, Ernst Gustav Zeller, Theodor Zeller, and a few partners founded Zeller, Haltiner & Co. for shale oil production.
1858
Zeller, Haltiner & Co. cease operations, as shale oil production proves uneconomical.
1863
Albert Zeller, Theodore's younger brother, resumes shale oil production.
1866
Albert Zeller and Paul Gmelin establish Zeller+Gmelin. The company mainly offers lubricating oils for industrial applications.
1898
Zeller+Gmelin moves its headquarters to the Schlossstraße in Eislinger, and builds, among other things, a refinery to produce gasoline.
1913
The Eislinger oil company operates around 30 commercial branches, including those in Antwerp, Danzig, and Basel.
1926
The company starts offering road construction products.
1930
Zeller+Gmelin starts the production of detergents.
1932
Zeller+Gmelin expands its offering again with printing inks.
1945
A few weeks after the war, US troops end the occupation of Eislinger's factory. Destruction is minimal.
1953
Zeller+Gmelin builds a petrol station network in southern Germany.
1983
March 18 sees the opening of a new production centre for industrial oils, lubricants and drawing greases, drawing powder and care products.
1984
On August 31, the company establishes Zeller+Gmelin of America in Richmond, Virginia, the first non-European subsidiary (later renamed to Zeller+Gmelin Corporation).
1987
Zeller+Gmelin acquires a majority stake in Intercolor Limited in the UK (takeover of all shares in 1998, later renamed to Zeller+Gmelin UK Limited).
1989
Establishment of Zeller+Gemlin BV, Netherlands with a minority shareholder.
1996
Zeller+Gmelin undergoes strategic changes to reposition itself as a manufacturer of specialty lubricant, printing inks and chemistry products. During this period, numerous participations and subsidiaries are sold.
1997
After the Danish printing ink distributor closed down, Zeller+Gmelin set up its own business in Denmark with Zeller+Gmelin A/S.
2000
With the construction of a new building, there is a significant expansion of research and development capacities in the fields of mineral oil, chemistry and analytical service.
2002
On July 22, Zeller+Gmelin becomes the first lubricant manufacturer to win the Bosch Supplier Award.
2003
Zeller+Gmelin expands internationally by establishing Zeller+Gmelin sro, Czech Republic, and Zeller+Gmelin SARL, France.
2004
Zeller+Gmelin Sp. z.o.o, Poland is established. The traditional company from Eislinger received the TOP 100 award as one of the most innovative medium-sized companies in Germany. By 2009, it had amassed three further TOP 100 awards.
2005
Establishment of ZG Fluidmanagement CZ s.r.o, Czech Republic.
2006
Zeller+Gmelin boosts its global presence by establishing Zeller+Gmelin (Suzhou) Co. Ltd., China; Zeller+Gmelin ULC, Canada (2008) and Zeller+Gmelin Ltd. Sti., Turkey (2006).
2011
Zeller+Gmelin de Mexico is established as a subsidiary of Zeller+​​​​Gmelin Corporation.
2016
Zeller+Gmelin is celebrating its 150th anniversary.
placeholder